By kirsten saikaly on December 5, 2021
Hi everyone, below is Amelia and I's video presentation on Video Game Streamers and Music Licensing. Enjoy, and comment below if you have any questions!
By amelia radke on December 3, 2021
Hi everyone, I came across a bit of video game news that I found to be quite interesting—especially following the recent presentations that we've seen on the "video-gamification" of the world. On December 1, it was announced that we can now purchase "the world's first video game to be custom designed for a children's hospital" […]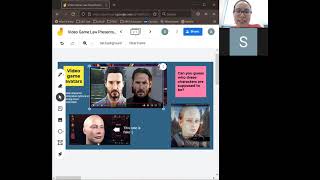 By amy chi-jung ko on December 2, 2021
Hi everyone, Here is the presentation video Simran and I (Amy) put together for the class. We discuss Canadian and US considerations of freedom of expression, and its intersection with Avatar creations. Possible exploitative directions sophisticated Avatar customization in video games are explored, and possible protections individuals may have against such exploitation are suggested. […]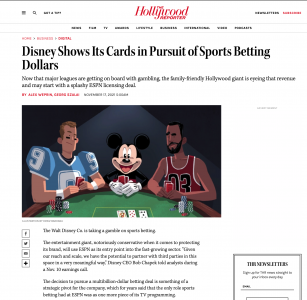 By kirsten saikaly on November 23, 2021
Hey all, I came across this interesting article about how Disney, who owns ESPN, is planning to move into the sports betting space. This is something that Disney had previously avoided to safeguard its family-friendly brand, but new CEO Bob Chapek has opened the doors to the possibility. As the article notes, a key reason […]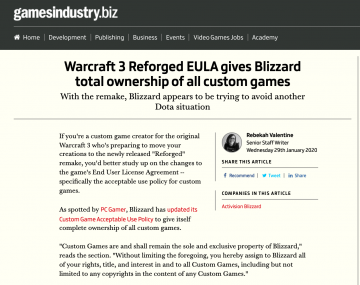 By trevor roemer on November 22, 2021
Hi everyone, Here are some articles you can take a look at prior to our presentation this coming Wednesday: Warcraft 3 Reforged EULA gives Blizzard total ownership of all custom games What a YouTube Copyright Strike From 2015 Has to do With 'Mario Maker 2' in 2019 How Nintendo has Consistently […]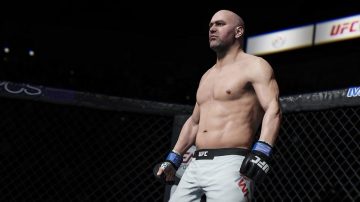 By jason sug on November 17, 2021
In August 2020, gaming giant Electronic Arts released EA Sports UFC 4, the latest iteration of its popular MMA video game franchise. The game was highly successful, being ranked as the month's "second best-selling game" in the US and "se[tting] a new franchise launch month sales record." Unsurprisingly, the buzz around EA Sports UFC 4 […]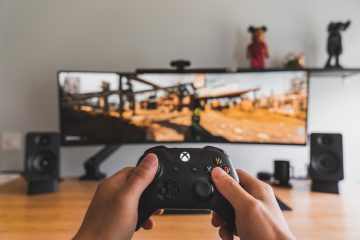 By lynn samantha momprevil on November 16, 2021
I came across this article and thought it would be interesting to share. With the anonymity of video games, like that of social media comes recruitment. We have seen terrorist groups connect and grow anonymously online, recruiting people who are in mutual threads and have the same "goals" or "passions" as them. We have also […]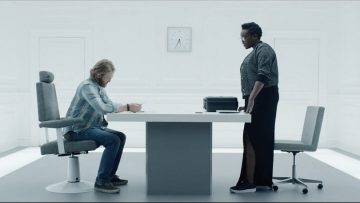 By hellen chan on November 14, 2021
My presentation is on Netflix's Black Mirror episode Playtest (season 3 episode 2), a haunting portrayal of augmented reality gone wrong. If you have not seen this episode, I would highly recommend watching it. Playtest touches on many of the issues relevant to concepts discussed in our video game law class and raises questions about […]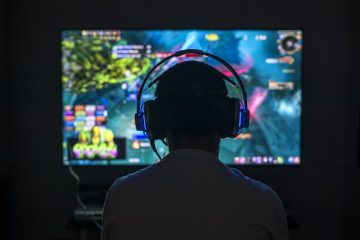 By Priscilla Chan on November 13, 2021
Hi everyone, Hope you all had a wonderful reading week! For our presentation on Wednesday, we will aim to tackle the questions below. Please have a look at the following articles addressing each question: Playing video games as a professional: Who is a video game streamer? Gaming – Athletes vs Entertainers What is the relationship […]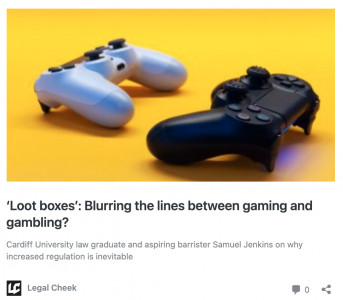 By zachary ingram on November 13, 2021
Hi everybody, I hope you are all enjoying your reading break. Please take a quick look through these articles in advance of my presentation on Wednesday. https://www.businessinsider.com/classifying-video-game-loot-boxes-as-gambling-2020-7 https://www.fasken.com/en/knowledge/2020/11/3-opening-pandoras-loot-box 'Loot boxes': Blurring the lines between gaming and gambling?